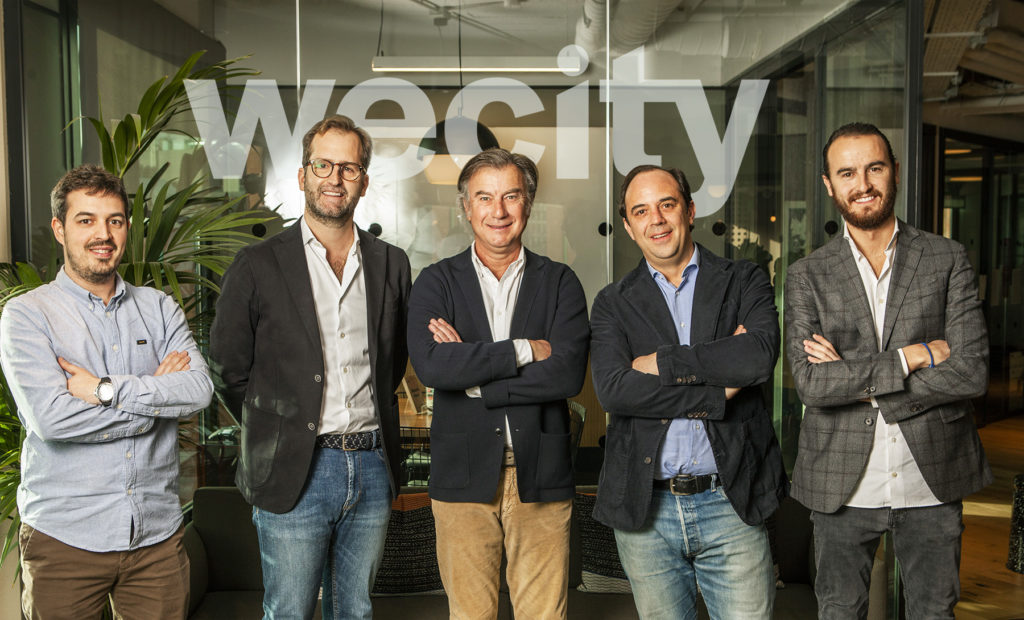 we are city
"Tenemos las misión de democratizar (we are crowd) el acceso a las altas rentabilidades del mercado institucional (we are city)".
En wecity hemos creado el ecosistema tecnológico e innovador donde promotores e inversores se comunican, financian y comparten rentabilidades.
we are proptech
Somos un equipo multidisciplinar con amplia experiencia en los sectores inmobiliarios, financieros y digital.
we are "exits"
En wecity estamos orientados a los resultados ("exits") y al servicio a nuestros clientes.
[E]xcelencia + e[X]periencia + [I]nnovación + [T]ecnología + [S]eguridad
we are team
Rafael Merry del Val

Fundador Presidente wecity Miembro Junta Directiva

Antonio Mañas

Fundador CEO | Chief Executive Officer Miembro Junta Directiva

José Navarro

Fundador CGO | Chief Growth Officer Miembro Junta Directiva

Francisco Taboada

Head of Real Estate Miembro Junta Directiva
Desempeño Social y Ambiental

Alejandro Varo

Head of Legal Department Secretario del consejo

Álvaro Fuentes

Head of Investment

Hernán Saez

Abogado Derecho Mercantil

Ignacio García

CIO | Chief Investment Officer Miembro Junta Directiva

Ana Basterrechea

Compliance Officer

Juan Carlos Ibañez

CDO | Chief Data Officer

Víctor Montes

Lead Product Designer

Álvaro García

CRM & Customer Success
Ley de Fomento de la
Financiación Empresarial
Artículo 55. Apartado e)
"Que los administradores de la plataforma de financiación participativa sean personas de reconocida honorabilidad empresarial o profesional y posean conocimientos y experiencia adecuados en las materias necesarias para el ejercicio de sus funciones".