Description
wecity is in compliance with Law 5/2015 and Regulation (EU) 2020/1503 of the European Parliament and the Council of 7 October 2020 concerning European providers of participatory financing services for businesses. It is authorized by the CNMV (National Securities Market Commission) as a Participatory Financing Platform registered under number 30, with a favorable recommendation from the Bank of Spain.
Sotabento, through BLM Invest & Development SL, is seeking financing from weCity for this investment opportunity, which involves a first-ranking mortgage-backed loan aimed at funding the construction of 2 semi-detached single-family homes located at Calle Victoria del Angels, 6, Roda de Bará (Tarragona).
Investor, before proceeding with your investment, please read the essential information for the investing client. Past returns do not guarantee future returns.
Project Summary
We introduce you with an opportunity for a Fixed Rate Loan with a First-Rank Mortgage Guarantee.
The plot of land has an approximate total area of 810 m2 and has been granted a building permit for the construction of 2 semi-detached single-family homes.
The developer contributes the unencumbered land (€124,867 of own funds).
The developer is requesting a fixed rate loan of €450,000 from wecity for the execution of the construction. This loan has a First-Rank Mortgage Guarantee.
Through wecity, you can participate in a fixed rate loan with an annual interest rate of 10% over an estimated period of 12 months (6 months mandatory compliance). The total estimated profit is 10%. Interest payments plus the return of the invested capital will be made at maturity (month 12).
With a minimum investment of €500 and no investment limit, you can participate in this opportunity with excellent profitability and maximum guarantees.
Valuation and Rating
The current appraisal for mortgage guarantee purposes (Order ECO 805/2003) amounts to €228,875.96 (land).
The appraisal based on the assumption of a completed building amounts to €660,674.88 (2 houses). This represents a Loan to Value (LTV) ratio based on the HET appraisal of 68.11%.
The Loan to Value (LTV) ratio for the first disbursement is 65.81%.
An external rating for the project has been requested from the consulting firm JLL which has assigned a rating of AA to the project.
Project
The project involves the construction of 2 semi-detached single-family homes with a private garden and swimming pool.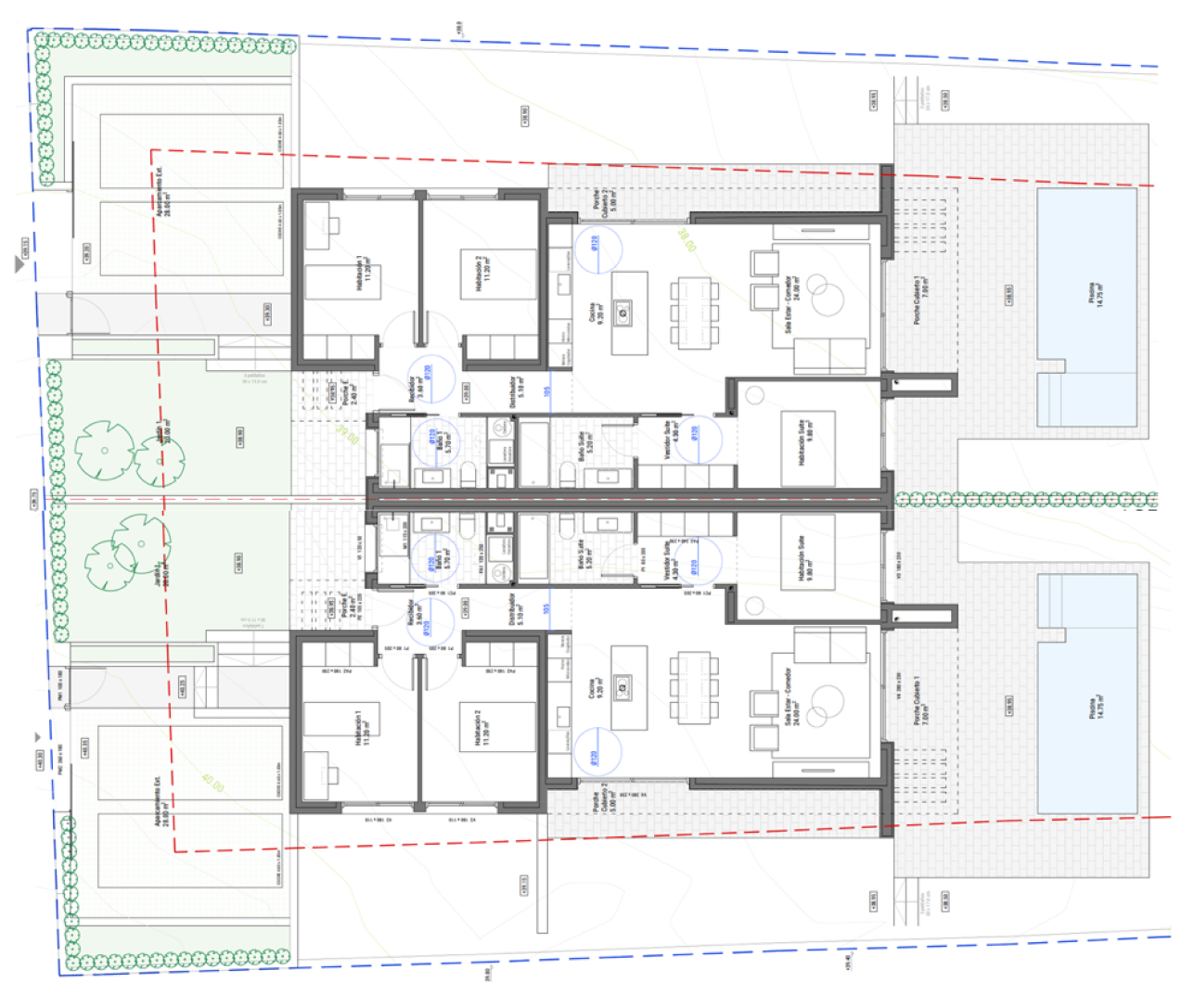 Areas and Location
The project is located in the municipality of Roda de Bará, Tarragona. It is only an 8-minute drive from the coast and 20 minutes from the city of Tarragona.
Roda de Bará is one of the best-preserved towns in the area and, apart from its historical essence as a passage along the Via Augusta, it has become a prominent tourist and residential hub on the Costa Dorada. It boasts beautiful golden sandy beaches such as Playa Larga and Playa Pelliseta, as well as modern nautical facilities.
Collateral
The loan will have a first-range mortgage guarantee on the land and the construction located at Calle del Angels, 6, Rodá de Bará (Tarragona).
The independent appraisal entity responsible for determining the value is KRATA, whose corporate name is KRATA SA SOCIEDAD DE TASACIÓN, and it is registered as an Approved Appraisal Company by the Bank of Spain with the number 4,323.
According to the appraisal report carried out by KRATA, the current appraisal value of the land amounts to €228,875.96.
The loan to be granted to the development company is €450,000, which represents a Loan to Value ratio on the initial disbursement of 65.81%.
Security Agent
The establishment, maintenance, management, administration, and, if necessary, execution of real estate mortgage rights on behalf of the investors will be handled by an external entity to Wecity.
In this case, the designated Guarantors Agent is Bondholders.
Bondholders is a professional company specialized primarily in providing trustee services and independent agent services for various asset classes and under numerous international jurisdictions.
In recent years, Bondholders has been appointed as an agent and trustee in over 400 transactions representing a total of nearly €200 billion in debt.
Among its key clients are financial institutions, institutional clients, asset managers, and sovereign government agencies, among others.
At present, it is one of the leading providers of independent fiduciary services in Europe.
Monitoring
The developer must provide justification for the use of funds in each of the requested disbursements.
The utilization of funds by the developer will be monitored by an external company to Wecity.
Bulletpoints:
· Investment Type: Fixed Interest Loan.
· Interest Payment: At maturity (month 12).
· Guarantee: First-range Mortgage.
· Additional Guarantee: Benso Construcciones y Obras SL acts as a guarantor of the loan in the capacity of joint surety.
· Purpose of the loan:
Construction expenses and development of real estate projects. The property details are as follows: Property No. 11,796 in Roda de Bará, Vendrell-2 Property Registry, CRU 43028000128628. The cadastral reference of the plot is: 2500310CF7620B0001HJ.
· Contribution from Promoter and Wecity Investors:
· BLM Invest & Development SL: Owned land without encumbrances (€124,867 of own funds).
· Wecity Investors: €450,000.
· Property Type: New Construction – Residential.
· Interest Rate: 10% per annum.
· Estimated Total Return: 10%.
· Loan-to-Value (LTV) based on Appraisal: 68.11%.
· Loan-to-Value (LTV) based on initial disbursement: 65.81%.
· Loan Term: 12 months.
· Minimum Investment: €500.